We know that sometimes finding your dream gown or outfit can be really challenging. And if, like us, you are also seeking options that reduce waste and harm to the environment, then finding that dream gown is made even harder. As well as offering a ready-to-wear collection, at Eliza May Atelier, we also offer a bespoke dress making service. 
We absolutely love creating bespoke designs! Right from the very beginning of the journey, you can trust us with your vision. We will walk with you every step of the way, taking into consideration your style and budget, as we design a dress or outfit that will help you feel magical on your wedding day. 
Right from the beginning, here is what you can expect when you come for a bespoke consultation: 
For your initial consultation you will be welcomed into our lovely studio with any guests you might want to bring. We will sit down and get to know you, chatting through any ideas you might have, look through some fabric samples and create a preliminary design sketch. 
Dream It. Following your first appointment, we will email you a refined sketch with a quotation for how much the design will cost. At this point it is your decision whether to approve the design, or whether there are little tweaks you would like to be made. If you decide to go ahead, we will then ask you to sign a form and transfer your deposit which will enable us to order fabrics for your lovely bespoke gown. How exciting!
Make It. Your first fitting will be a toile fitting. This is a mock up version of the final gown which we use to help us check the fit and that you are happy with the shape before we cut out the expensive fabric. After your toile fitting, there will be another 2-3 fittings with your dress throughout the process to double and triple check the fit and to make sure the hem is the right length.
Wear It. During your final appointment, we will ask you to transfer your final balance and sign a collection form. Your dress will then be steamed and put in a dress bag, ready for you to take away and wear on your big day. Having your bridal gown made especially for you is a really exciting and magical process. And I'm sure that our past clients would agree!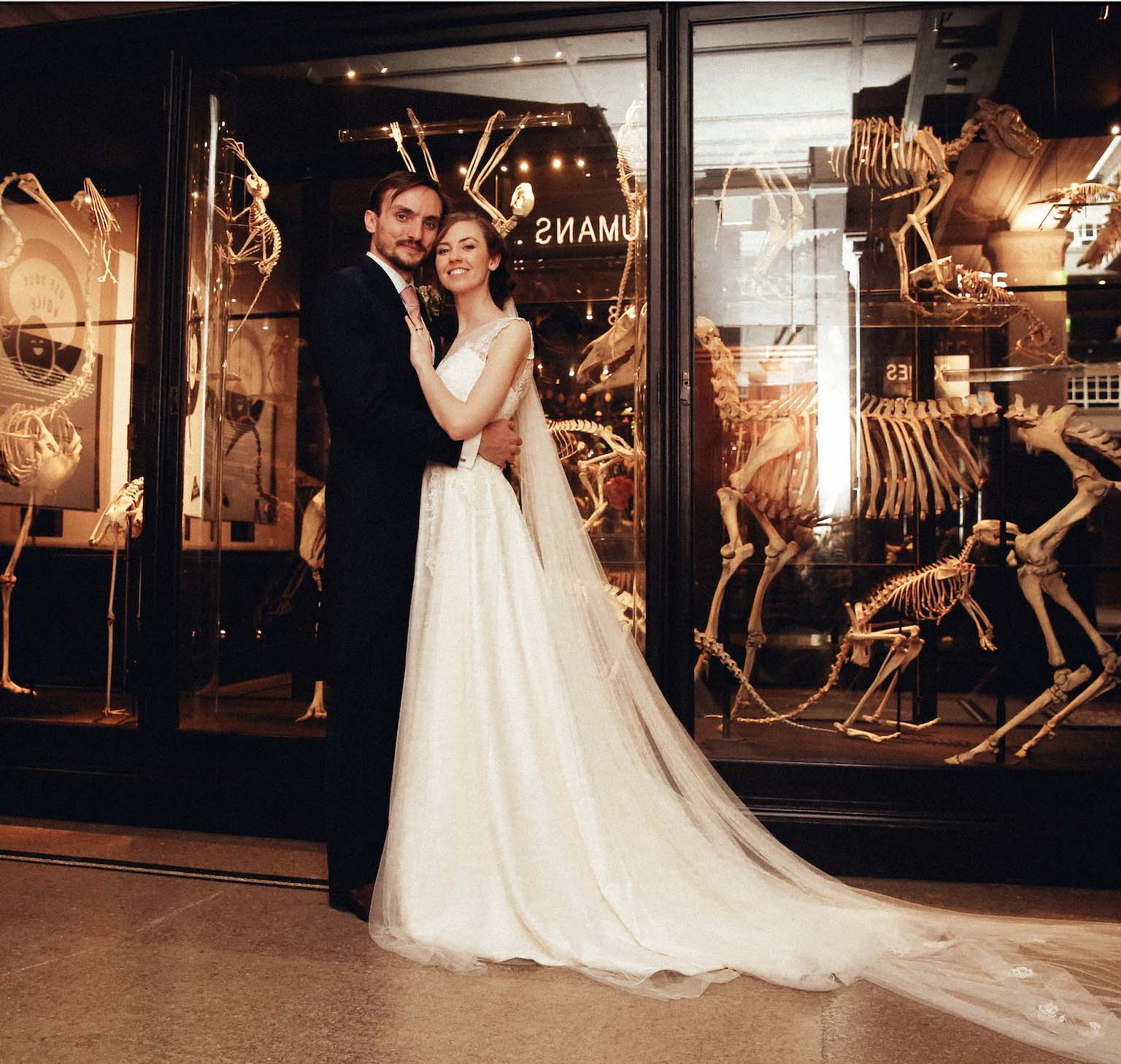 Sophie
Sophie chose a stunning ivory lace for her wedding dress. Each motif was hand stitched onto the bodice and trickling over the full tulle skirt. We also created a cathedral length veil with matching lace motifs at the edge.
"I was delighted with my wedding dress made by Miriam. She really listened to what I wanted and designed a beautiful dress. Miriam was very friendly and helped me to relax as we discussed ideas. She kept me updated with the progress of the dress, and was easy to get in touch with. She also made herself available for the morning of the wedding to help with bridesmaid dresses and final adjustments. I have already recommended Miriam to friends and would not hesitate to do so again."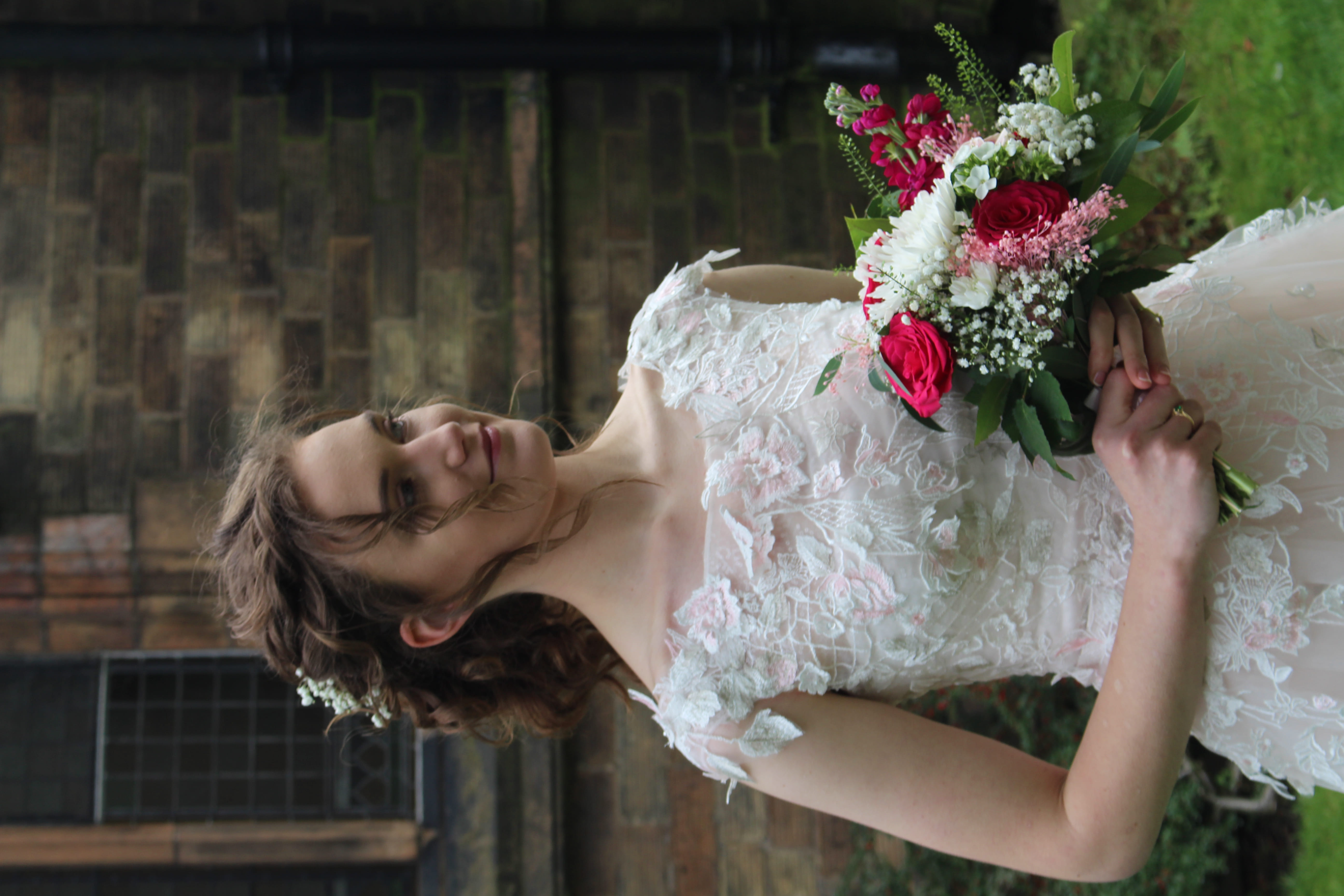 Heather
For her gown, Heather chose a stunning ivory and blush pink lace with accents of silver. A beautiful blush pink tulle train made the gown a 2-in-1 affair with a slim fitting dress underneath for the evening reception. We also made the dresses for Heather's 5 bridesmaids in a gorgeous dark pink chiffon.
"Having Eliza May Atelier make my wedding dress was the best decision I could have made. Miriam was so helpful throughout the process, from choosing my favourite design to final touches. She offered her opinion when I was unsure about a design feature, and had lots of ideas about the types of fabrics I could use and the little details that I wanted added. I was unsure whether to go for a big dress or a slimmer fitting one, and Miriam helped me to come up with a way of having both in one dress. She never said no to an idea and was accommodating to all my needs. I would highly recommend having Eliza May Atelier make a bespoke dress, and it truly made my special day that much more magical."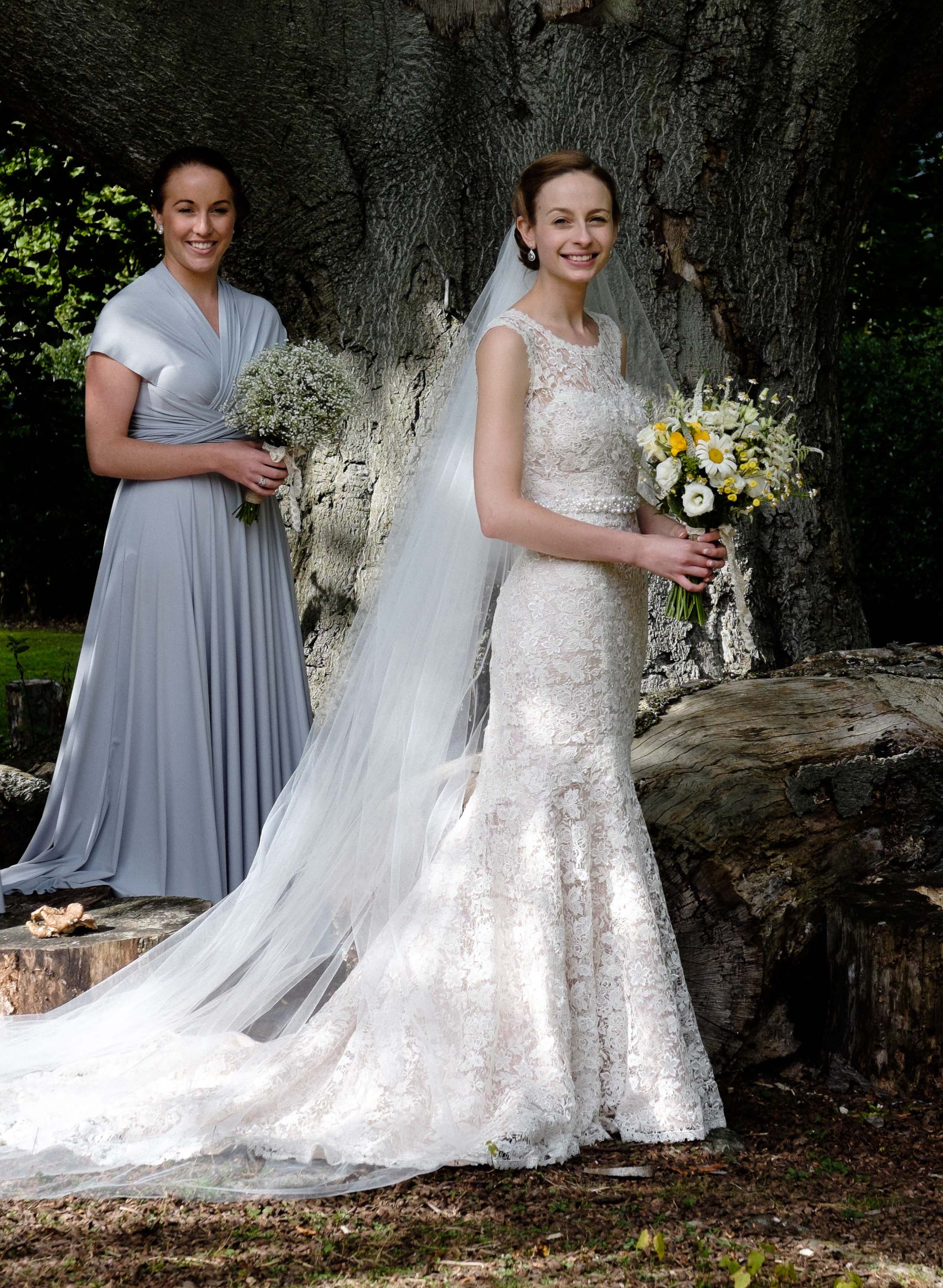 Emily
Emily chose a gorgeous ivory guipure lace for her bridal gown. The underneath layer was a subtle champagne colour which really set the lace off and showed the design up beautifully. The lovely fitted fishtail skirt was finished off perfectly with a stunning pearl encrusted belt. We also made five multiway bridesmaid dresses for Emily's wedding party in a lovely dove grey jersey.
"Miriam made both my wedding dress and all my bridesmaids dresses- and she was fantastic. I initially went out to wedding dress shops to figure out what would suit me and then described to Miriam what I would like. She then designed the dress and we choose materials together - she was also very clear about how the different choices of materials would affect the cost. At one point I was a bit nervous as my mum was shocked at the colour of the material Miriam had recommended for under the lace- it was darker than I expected but Miriam explained that this would set off the lace perfectly. I'm so glad I trusted her as it looked amazing when it came together. It was half the price of the types of dresses I was trying on in the shops, and I got something totally unique and that fitted perfectly. The bridesmaids dresses were also just what I wanted- I had 3 adults and my 9 year old cousin as bridesmaids - and one of them lived in Australia -so finding something suitable in a shop would have been hard. Miriam suggested something suitable that would suit everyone and be adjusted easily a few days. I would definitely recommend Miriam to make your wedding dress or bridesmaids dresses- or both!"